At a recent meeting of the New Jersey chapter of the American Society for Healthcare Risk Management (ASHRM), health experts presented on how to prevent readmissions for pressure ulcers.
Pressure ulcers are a common hospital-acquired condition with far-reaching implications for patient safety.  It is estimated that 2.5 million patients are affected by pressure ulcers annually in the U.S.; about 60,000 patients will die nationwide directly from pressure ulcers.  The condition is extremely painful, costly (up to $11 billion each year in the U.S. alone), and largely preventable.
In 2015, The Joint Commission made pressure ulcer prevention a National Patient Safety Goal.  The condition is also one of the targets of the CMS' Hospital Readmission Reduction Program, which will reduce Medicare payments to hospitals with excessive readmissions within 30 days of discharge.
Lynn Razzano, RN, MSN, ONC-C (Clinical Nurse Consultant, Physician-Patient Alliance for Health & Safety) said that the keys to prevention begins with proper care, monitoring, and treatment.  This includes a head-to-toe skin assessment; Ms. Razzano cited 3 Basic Principles For Pressure Ulcer Prevention:
Use a validated tool to assess risk

Implement a preventive plan for residents at risk

Inspect skin daily for high-risk residents
Susan Scott, BSN, MSN, RN, WOCN (The University of Tennessee Health Science Center), showcased a surgical pre-assessment tool she developed called the Scott Triggers.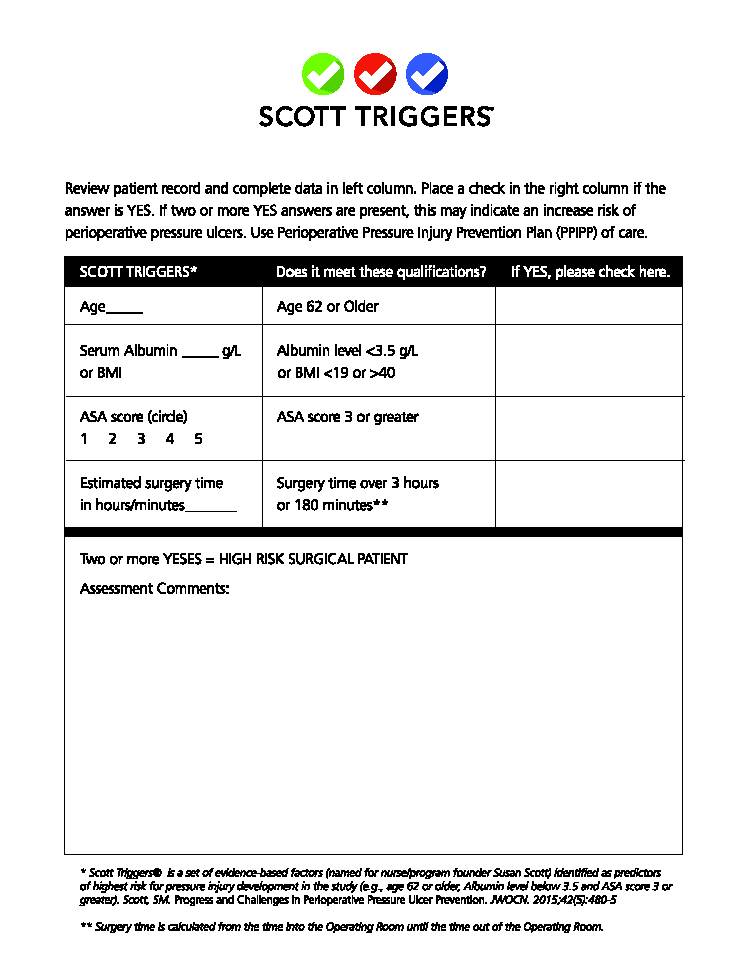 It is a simple, 4-question questionnaire that assesses risk based on patient age, serum albumin levels, ASA score, and estimated surgery time.  A study of the tool's effectiveness across more than 21,000 patients showed that hospital-acquired pressure ulcers dropped from 3.4% to 0.9% over a 14-month period.

Michael Wong, JD (Executive Director, PPAHS), also discussed some of the technological solutions currently available on the market.  These included advances in mattress technology, continuous electronic monitoring, wearables, and risk assessment algorithms.  
Preventing hospital readmissions due to pressure ulcers starts at the beginning of the patient journey with the right processes and technology solutions.  With the number of available solutions, healthcare facilities should adopt the ones best fitted to the needs of their institution and patient population.
To access a PDF copy of the presentation, please click here.